Why Two Bottles?
When the two solutions are mixed, OraCare™ with Halex OC technology becomes activated. This activated oral cleanser has been shown to kill the germs that cause bad breath and cleans the whole mouth. Heart surgeons require their patients to rinse with an antibacterial rinse before undergoing heart surgery. Because an infection in the mouth can put the rest of the body at risk, shouldn't we be concerned about protecting patients before all dental treatments the same way?
Frequently Asked Questions
What should I use OraCare™ for?
These are just a few of the many uses:
Bleeding gums
Bad Breath
Disinfecting your
Toothbrush
Supporting Cosmetic
Dentistry
Maintaining Whitened Teeth
Reducing Plaque
Dry mouth
Burning Mouth
Post Dental Care
Canker Sores / Cold Sores
What Patients Across the Nation are saying about OraCare™:
"I have veneers and my mouth has bled for years every
time I would brush or floss. After two weeks of using
OraCare™, the bleeding is gone. Where can I buy more?"
-Andre, California
"After rinsing with OraCare™, my mouth feels like it's
been power washed."
-Steve, New Jersey
What Dentists and Hygienists are saying about OraCare™:
"If one were going to design the perfect mouthwash,
it would need to: be safe for the user, whiten teeth,
kill bacteria, destroy biofilms (sticky plaque), eliminate
bad breath and taste great so patients will actually
use it. Fortunately, nobody need to bother designing
this mouthwash because I've been using it for several
months in my oral surgery and implant practice
and it's called OraCare™."
-Dr. Michael, DDS, Texas
"OraCare™ is a mouth rinse that my wife and I use twice a day. We have both found another great "perk" in addition to the clean way our mouths feel. I am a coffee drinker and have always found that after every few months I need to rewhiten my teeth with trays and bleaching gel or bleaching strips. Since I have been using OraCare™, my teeth are staying bright without the use of any other product. I no longer need the additional boost of trays or strips. Friends have commented, unsolicited, that my wife's smile is whiter and brighter, too. What a great extra bonus!"
-Dr. Berk, DDS, New York
"I really love OraCare™. As my perio re-evals come
back, I am finding a huge difference in the results
and health of those patients that I irrigated with
OraCare™ vs those I irrigated with Peridex. It made
a huge difference!"
-Melissa, Hygienist, West Virginia
Orthodontic Case Study
"We had to take this patient's braces off early because of such poor hygiene. The patients gums were very red, swollen and painful. We gave the patient OraCare™ with the instructions to rinse twice a day. Six weeks later the patient returned with all symptoms gone. We see many patients just like this case and never had anything to help. Now we do. All ortho patients now get OraCare™. Thank you, Dentist Select!"
-Dr. Flanagan, Orthodontist, Tennessee
BEFORE ORACARE™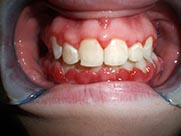 AFTER ORACARE™